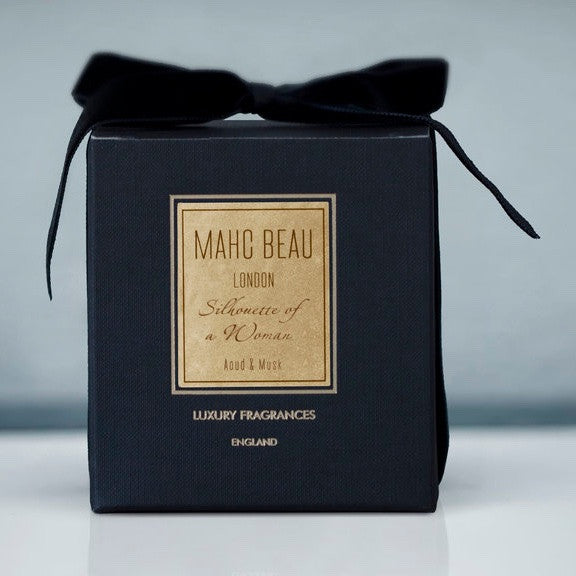 Silhouette of a Woman 300g All Black Edition
High End Candles| High End Soy Candles| Mahc Beau Luxury Candles
£70.00
High End Candles
Aoud & Musk 300g luxury perfume candle with complimentary poem™
Top notes of Bergamot & nutmeg, oriental flora as its heart with base notes of Musk, Sandalwood, Amber, Vanilla & Saffron with a twist of coffee.
Luxury Scented Soy Candles.
Organic soy black wax candles / Mineral blend
Handmade in England
Presented in a matt black candle holder
High perfume concentration, exceeding industry standards
Pure cotton wick
Estimate burn time - 300g/46 hours 
Luxury gift black box with a black velvet black ribbon
With complimentary poems/short stories™ & art photographs™
Multi-sensory experiences and creates a sensual mood uplifting atmosphere
All materials tested by IFRA, the international fragrance association
Mahc Beau is a multi sensory artist who integrate pictures, words and scents to convey romantic sentiments and create mood enhancing experiences, with reoccurring themes on the subject of love, intimacy, heart break, discoveries, passion, youth, friendship and serendipity.The ingredients used in each Mahc Beau's luxurious scented candle reflect the sentiment and narrative of a poem and has been illustrated by Mahc Beau's photography.

NEWS: Pre-order Mahc Beau's Book collection of Photography, Poetry & Prose titled - THE UNPUBLISHED WORKS OF MAHC BEAU: SKETCHES OF OUR IMAGINATION. 10,000 Limited Edition Copies Worldwide Only!